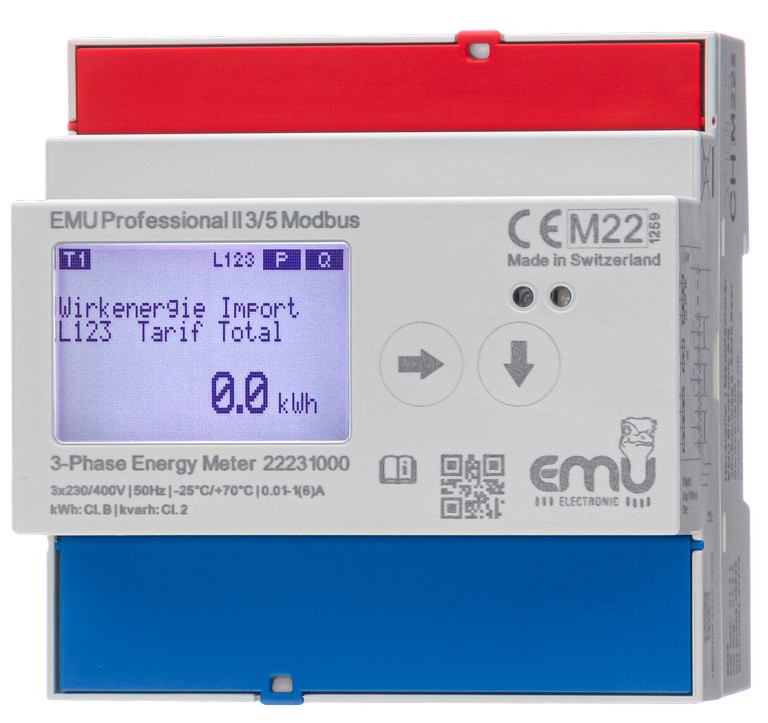 EMU Professional II 3/5 Modbus
The 3-phase power meter EMU Professional II 3/5 Modbus for DIN rail mounting features a built-in RS485 Modbus RTU interface and is suitable for energy management as per ISO 50001 and energy cost billing. Features Bidirectional three-phase power meter with RS 485 interface interface RS 485 Modbus RTU 3x230/400V Indirect using /5A and /1A current transformers Current transformer ratio configurable several times using the service key MID B+D, for billing purposes Accuracy class B (1%) RS485 Modbus RTU interface The built-in RS 485 Modbus RTU interface is protected against dirt and manipulation. Modbus power meter readings Active energy consumption (kWh) and supply (kWh) Reactive energy consumption (kWh) and supply (kWh) Active power (kw) Reactive power (kvar) Apparent power (kVA) Current (A) Frequency (Hz) Number of voltage failures Current transformer ratio LCD-Display Reading and setting parameters is user-friendly by a 38x28 mm graphic LCD display with LED backlight. This provides excellent visibility of numbers and letters.Display language e.g. english or german can be selected by the keys. Power meter configuration Touch-sensitive control buttons are used for configuration. A sealable service button must be pressed for each configuration change.The current transformer ratio (1 or 5 A transformer, up for up to 20000/5 or 4000/1 A) can be configurable several times.The control keys are used to configure the RS485 Modbs address and the baud rate. Modbus baud rate: Via keys or Modbus Modbus primary address: Via keys or Modbus Modbus address: Via keys or Modbus S0 pulse output The 3-phase indirect power meter EMU Professional II 3/5 Modbus features a configurable S0 pulse output for active or reactive energy Pulse rate per kWh / kvarH: 1,10,100, 1000 or 10000 Pulse length in milliseconds: 2ms, 10ms, 30ms, 40ms, 120 ms Modbus power meter configuration ex factory Modbus address: 000 S0 pulse output: 10 Impulse/ 20 ms Modbus Power meter manufacturer The 3-phase modbus power meter meter is produced in Switzerland by EMU Electronic Ltd.More information: https://www.emuag.ch
Request B2B login to view prices & discount.
EMU Professional II 3/100 Modbus
The 3-phase bidirectional power meter EMU Professional II 3/100 Modbus for DIN rail mounting features a built-in RS 485 Modbus RTU interface and is suitable for energy management as per ISO 50001 and energy cost billing. Features Bidirectional three-phase power meter with RS485 interface RS485 Modbus RTU interface 3x230/400V Direct connection up to 100 A MID B+D, for billing purposes Accuracy class B (1%) RS485 Modbus RTU interface The built-in RS 485 Modbus RTU interface is protected against dirt and manipulation. Modbus power meter readings Active energy consumption (kWh) and supply (kWh) Reactive energy consumption (kvarh) and supply (kvarh) Active power (kw) Reactive power (kvar) Apparent power (kVA) Current (A) Frequency (Hz) Number of voltage failures LCD-Display Reading and setting parameters is user-friendly by a 38x28 mm graphic LCD display with LED backlight. This provides excellent visibility of numbers and letters.Display language e.g. english or german can be selected by the keys. Power meter configuration Touch-sensitive control buttons are used for configuration. A sealable service button must be pressed for each configuration change.The control buttons are used to configure the RS485 Modbs address and the baud rate. Modbus baud rate: Via keys or Modbus Modbus primary address: Via keys or Modbus Modbus address: Via keys or Modbus S0 pulse output The 3-phase power meter EMU Professional II 3/100 Modbus features a configurable S0 pulse output for active or reactive energy Pulse rate per kWh / kvarH: 1,10,100, 1000 or 10000 Pulse length in milliseconds: 2ms, 10ms, 30ms, 40ms, 120 ms RS 485 power meter configuration ex factory Modbus address: 000 S0 pulse output: 1'000 Impulse/ 40 ms Manufacturer The 3-phase RS485 power meter meter is produced in Switzerland by EMU Electronic Ltd.More information: https://www.emuag.ch
Request B2B login to view prices & discount.
RS485 Modbus Power Meter: Your reliable partner for meter reading
To reliably read out energy consumption, you need a steadfast partner by your side - a power meter with a RS485 Modbus interface. EMU Metering's online store offers just these devices. But what are they? This special interface is a communication interface. The acronym RS stands for Recommended Standard.
RS485 interfaces can be found, for example, in several of our three phase energy meters from the Professional and Professional II series - additional interface types include TCP/IP or LoRa. RS485 supports the Modbus/RTU protocol. RTU stands for Remote Terminal Unit. This unit transfers data in binary form, while Modbus ASCII works to transfer data with the eponymous code. Up to 32 modules can be connected to a RS485 bus line - a repeater increases this number up to 128 connection options. Get your reliable energy meter with RS485 Modbus interface!
Are Modbus and RS485 identical?
No, because RS485 is a data transmission standard for a physical interface. The term Modbus on the other hand, describes a protocol that uses RS485 in its implementation. Modbus RTU works with a binary code upon dispatch - just like RS485. In addition, RS485 uses different electrical signals for data transmission than, for example, its predecessor interface RS232, which is almost never used today. There is also the Modbus ASCII protocol, which transfers data in the eponymous code.
What are the benefits of using an energy meter with RS485 interface?
The main argument certainly is that multiple devices can be operated via a single RS485 Modbus interface. This no longer requires the presence of several interfaces if the data are accessed from multiple devices. However, it is important to use the correct interface, because, for example, RS232 and RS485 are not completely compatible with each other. Furthermore, the RS485 Modbus interface covers a significantly higher transmission distance. Higher interval rates are also possible.
What EMU Metering electricity meters have RS485 built in?
If you are explicitly seeking an energy meter with RS485 Modbus interface, you can find it in our three phase transformer-operated meters and three phase A.C. meters. In short: in all meters with Modbus interface that allow for data transmission to a remote station.
What are the characteristics of the RS485 interface?
Is an energy meter with RS485 Modbus interface right for you? It will take you no time at all to find out using our list of all relevant characteristics:
Number of receivers: 32
Maximum line length: 1,200 metres
Maximum data transmission rate: 39800 Baud
What additional interfaces can be found in our energy meters?
Independent of the model, the following interfaces are integrated in our electricity meters:
M-Bus
Modbus RTU
TCP/IP
KNX
LON
If you are explicitly seeking RS485-enabled meters, you will receive a device with a built-in Modbus interface from the product series Professional and Professional II. These are MID B+D certified and facilitate the reliable and accurate measurement of all energy usage. Record different rates such as daytime and night-time consumption (depending on the model). This can be achieved quickly using a rate switch via a 230 Volt signal.
RS485 Modbus interface: Centrally access all important data
Accessing a variety of data centrally in one place is harder than herding cats? Not with the energy meters with RS485 Modbus interface. And at EMU Metering you can not only buy high-quality hardware, but also fast software that helps to correctly trace consumption and to then calculate the correct payments. Calibrated with precision, sustainable and easy to operate - get your energy meter with RS485 interface. We look forward to hearing from you!