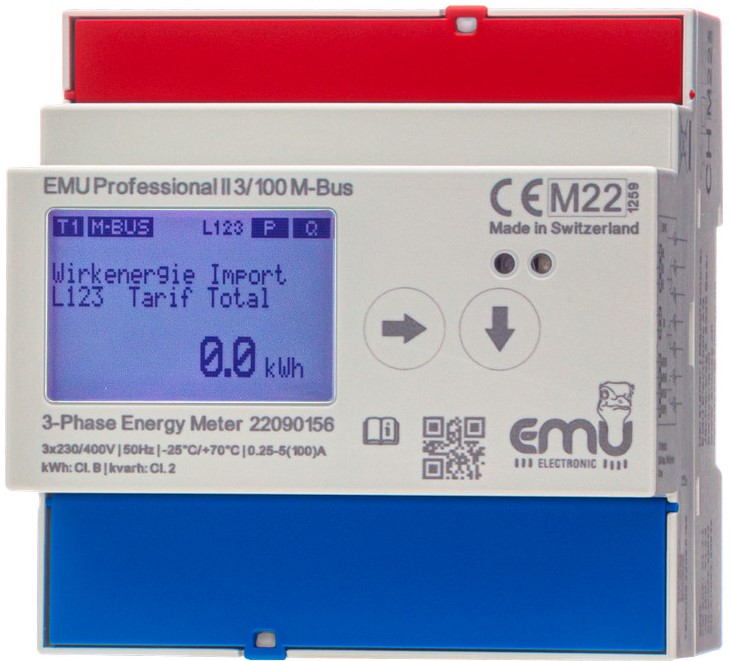 EMU Professional II 3/100 M-Bus
The 3-phase bidirectional power meter EMU Professional II 3/100 M-Bus for DIN rail mounting features a built-in wired M-Bus interface and is suitable for energy management as per ISO 50001 and energy cost billing. Features Bidirectional three-phase power meter with M-Bus interface wired M-Bus interface 3x230/400V Direct connection up to 100 A MID B+D, for billing purposes Accuracy class B (1%) M-Bus interface The built-in M-Bus interface is protected against dirt and manipulation and is designed according to EN13757-2, -3 (previously EN1434-3). The power meter EMU Professional II 3/100 M-Bus communicates via M-Bus at 300, 600, 1,200, 2,400, 4,800 and 9,600 baud. The M-Bus load of the EMU Professional II 3/100 M-Bus is only 1.5 mA, which corresponds to a standard load.M-Bus connection: The EMU Professional 3/100 M-Bus 2x2 M-Bus connection terminals for easy M-Bus looping. Power meter readings Active energy consumption (kWh) and supply (kWh) Reactive energy consumption (kvarh) and supply (kvarh) Active power (kw) Reactive power (kvar) Apparent power (kVA) Current (A) Frequency (Hz) Number of voltage failures LCD-Display Reading and setting parameters is user-friendly by a 38x28 mm graphic LCD display with LED backlight. This provides excellent visibility of numbers and letters.Display language e.g. english or german can be selected by the keys. Power meter configuration Touch-sensitive control buttons are used for configuration. A sealable service button must be pressed for each configuration change.The control keys are used to configure the M-Bus primary and secondary address, and the baud rate. M-Bus baud rate: Via keys or free EMU MB-Connect software M-Bus primary address: Via keys or free EMU MB-Connect software M-Bus secondary address: Via keys or free EMU MB-Connect software S0 pulse output The 3-phase power meter EMU Professional II 3/100 M-Bus features a configurable S0 pulse output for active or reactive energy Pulse rate per kWh / kvarH: 1,10,100, 1000 or 10000 Pulse length in milliseconds: 2ms, 10ms, 30ms, 40ms, 120 ms Power meter configuration ex factory M-Bus primary address: 000 M-Bus secondary address: serial number, e.g. 24501234 M-Bus baud rate: 2400 S0 pulse output: 1'000 Impulse/ 40 ms Manufacturer The 3-phase M-Bus power meter meter is produced in Switzerland by EMU Electronic Ltd.More information: https://www.emuag.ch
Request B2B login to view prices & discount.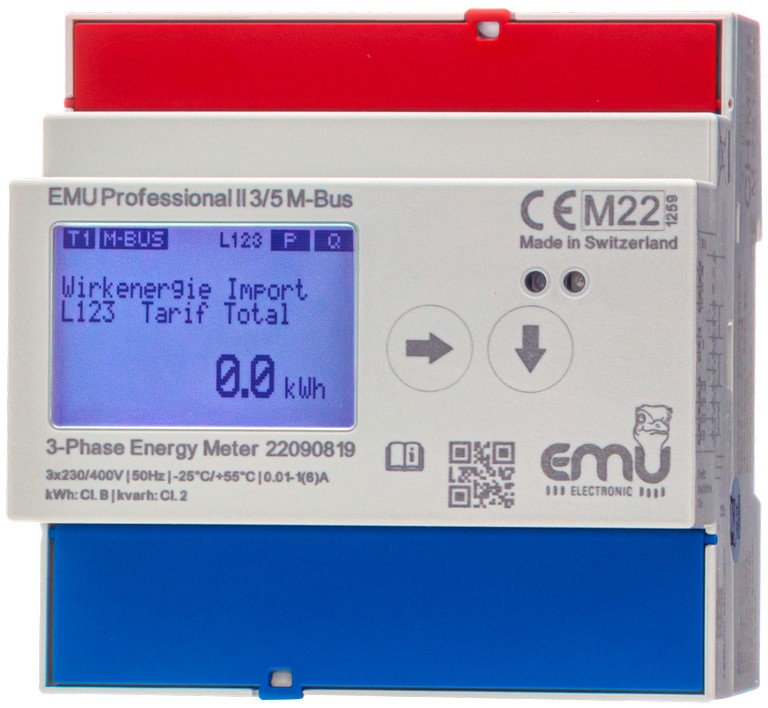 EMU Professional II 3/5 M-Bus
The 3-phase bidirectional power meter EMU Professional II 3/5 M-Bus for DIN rail mounting is suitable for energy management as per ISO 50001 and energy cost billing. Features Bidirectional three-phase power meter with M-Bus interface wired M-Bus interface 3x230/400V Indirect using /5A and /1A current transformers Current transformer ratio configurable several times using the service key MID B+D, for billing purposes Accuracy class B (1%) M-Bus interface The built-in M-Bus interface is protected against dirt and manipulation and is designed according to EN13757-2, -3 (previously EN1434-3). The power meter EMU Professional II 3/5 M-Bus communicates via M-Bus at 300, 600, 1,200, 2,400, 4,800 and 9,600 baud. The M-Bus load of the EMU Professional II 3/5 M-Bus is only 1.5 mA, which corresponds to a standard load.M-Bus connection: The EMU Professional 3/5 M-Bus 2x2 M-Bus connection terminals for easy M-Bus looping. Power meter readings Active energy consumption (kWh) and supply (kWh) Reactive energy consumption (kWh) and supply (kWh) Active power (kw) Reactive power (kvar) Apparent power (kVA) Current (A) Frequency (Hz) Number of voltage failures Current transformer ratio LCD-Display Reading and setting parameters is user-friendly by a 38x28 mm graphic LCD display with LED backlight. This provides excellent visibility of numbers and letters.Display language e.g. english or german can be selected by the keys. Power meter configuration Touch-sensitive control buttons are used for configuration. A sealable service button must be pressed for each configuration change.The current transformer ratio (1 or 5 A transformer, up for up to 20000/5 or 4000/1 A) can be configurable several times.The control keys are used to configure the M-Bus primary and secondary address, and the baud rate. M-Bus baud rate: Via keys or free EMU MB-Connect software M-Bus primary address: Via keys or free EMU MB-Connect software M-Bus secondary address: Via keys or free EMU MB-Connect software S0 pulse output The 3-phase indirect power meter EMU Professional II 3/5 M-Bus features a configurable S0 pulse output for active or reactive energy Pulse rate per kWh / kvarH: 1,10,100, 1000 or 10000 Pulse length in milliseconds: 2ms, 10ms, 30ms, 40ms, 120 ms Indirect power meter configuration ex factory M-Bus secondary address: serial number, e.g. 28521234 M-Bus primary address: 000 M-Bus baud rate: 2400 S0 pulse output: 10 Impulse/ 20 ms Power meter manufacturer The 3-phase indirect M-Bus power meter meter is produced in Switzerland by EMU Electronic Ltd.More information: https://www.emuag.ch
Request B2B login to view prices & discount.
EMU M-Center
The EMU M-Center has an integrated high performance M-Bus level converter, which allows a quick configuration and commissioning.The automated reading of up to 250 M-Bus meters guarantees an error-free and continuous data acquisition for later analysis and billing according to ISO 50001.Energy consumption becomes transparent and potential savings are identified. Hardware features Integrated M-Bus level converter for up to 250 M-Bus slaves | Ex Factory license for 20 M-Bus meters active 2x RS485 interface for Modbus RTU readout (license optional) 2x RJ45 interface (1x for LAN connection and 1x service port) 8x Flex I/O's Integrated SIM card LTE modem USB interface 230V power supply Integration into existing systems: BACnet IP gateway function (option) OPC UA gateway function (option) MQTT (option) Modbus TCP (option) Firmware and software functions Connection to Joulio-Web Device Management | Digital Twin and secure firmware update Data acquisition from M-Bus, Modbus RTU and Modbus TCP devices Suitable for heat, water, gas and electric meters with M-Bus System connection via optional MQTT, OPC UA and BACnet IP license Professional data processing Firmware update & backup via web interface Data recording and export for analysis Energy consumption becomes transparent for targeted measures Suitable for energy data management according to ISO 50001 Features and requirements according to ISO 50001 Automated reporting Continuous data evaluation Visualization incl. individual charts Integration into existing systems Alerting Support & Update Service Configuration The complete configuration of the M-Center is done via an appealing, simple user interface, which can be done with any common web browser (HTML 5). VisualizationFor visualization of energy consumption and instantaneous measured values we recommend the energy management software Joulio-Web. Commissioning Automated meter search DHCP RJ45 service port
M-Bus Data logger in EMU Metering Online Store
EMU M-Bus Center presents a high-quality and cost-effective starter model for anyone who seeks to contribute to efficient energy consumption with modern energy management. With its built-in M-Bus level converter, the EMU M-Bus Center ensures fault-free and continuous usage data recording for heat, water, gas, and electricity meters with M-Bus. The collected data are clearly organised for analysis and accounting via a web interface and exported as a CSV file. This way, you know where, when, and how much energy is used. M-Bus Center makes energy consumption transparent and shows potential savings.
In our online store, you can find M-Bus Centers for reading up to 250 M-Bus-enabled meters tailored to your individual requirements.
Who benefits from M-Bus gateway EMU M-Bus Center?
M-Bus Center is suitable for anyone who is looking for a system solution for effective and future-oriented energy management. Both for residential as well as industrial settings with a large number of utility meters. It is important that the meters have an M-Bus interface according to EN 13757-2,-3. M-Bus is a communication system for meter data transmission and contributes to improved energy monitoring as a component of intelligent energy metering. A multitude of M-Bus energy meters can also be found in our online store. However, the use of M-Bus Center is manufacturer independent. As an open and comprehensive energy management system, the Center can be easily integrated as a flexible system expansion.
Thanks to high levels of compatibility, the EMU M-Bus Center can be expediently integrated in existing systems. A system connection via OPC UA and BACnet IP is also possible via S0-pulse inputs. In addition, indoor and outdoor temperatures can be measured using PT1000 temperature sensors, whereas individual M-Bus device drivers can be configured via the web interface. Measured values can be stored automatically and encrypted on FTP servers in individually defined readout intervals. With the M-Bus Center, EMU offers a perfect system solution for the efficient monitoring of energy consumption with versatile connectivity options. Meter readout via web browser provides the necessary flexibility.
How does energy management with M-Bus Center work?
In a nutshell: uncomplicated and efficient. Energy meters are connected with a data logger using suitable clamps. Once connected to the network, the data logger receives an IP address through which the data can be accessed using any standard web browser. Enter the IP address and login details and it is ready to go. All additional steps of configuring meters and data loggers occur via an attractive and simple web interface.
Clearly organized energy management - any time, anywhere
The integrated data readout via web server makes manual meter recording obsolete. With the EMU M-Bus Center, you can comfortably access your consumption data at any time and place via remote readout. Meters connected to the system are found automatically and listed in a clearly organized manner. For optimum identification, each meter can be assigned a name, cost centre and comments. Accuracy, clear organization, and transparency are the foundation of professional data processing, as well as ad-hoc analysis and plausibility.
The captured data is processed schematically. Graphic usage analysis also includes the following values:
Usage per day v. previous day
Usage per week v. previous week
Usage per month v. previous 12 months
A multilingual web interface also makes it possible to successfully use the EMU M-Bus Center internationally. Determine any number of users by assigning corresponding usage rights.
The EMU M-Bus Center helps you to achieve the foundation of future-oriented and expandable energy management in accordance with ISO 50001. Keep an eye on your energy usage data across sites and make efficient energy saving measures accessible!
Would you like to optimise your energy management even further? The EMU M-Bus Centers can be combined with the energy management software "Joulio-Web." Take advantage of the benefits of EMU software for even easier and more clearly organised energy data management.
We happily support you with advice and assistance if you have questions about the use of the EMU M-Bus Center. Contact us - together, we will design a successful, modern energy management project!