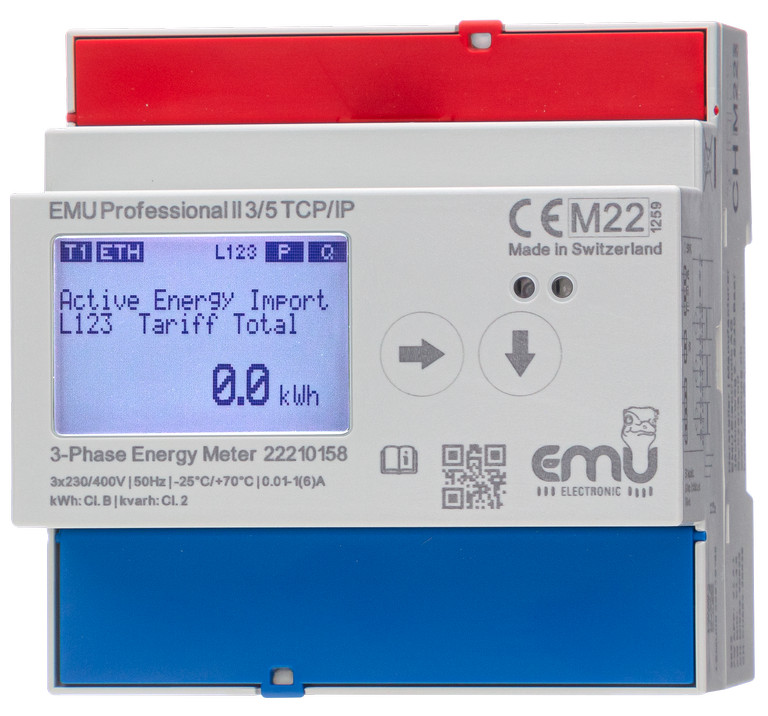 EMU Professional II 3/5 TCP/IP
The 3-phase indirect power meter EMU Professional II 3/5 TCP/IP for DIN rail mounting features a built-in LAN interface with Modbus TCP communication and web-server. The indirect power meter is designed for energy management as per ISO 50001 and energy cost billing.Built-in load profile memory with a memory depth of over 3 years at a 15-minute interval. Features Bidirectional three-phase power meter with LAN TCP/IP interface Remote reading via Modbus TCP and API Webserver access protection with password Logging of different measurement values and export to CSV or via API Memory depth of over 3 years at a 15-minute interval 3x230/400V 1 or 5 A transformer connection for up to 20000/5 or 4000/1 A MID B+D, for billing purposes Accuracy class B (1%) TCP/IP interface The built-in LAN TCP/IP interface is protected against dirt and manipulation.You can analyse different measurement readings via your web browser and IP address in a LAN or WAN. Remote reading via Modbus TCP   HTTP-GET API NTP time server Buffered clock with synchronisation DHCP or fixed IP Modbus TCPModbus TCP is similar to Modbus RTU, but TCP/IP packages are used to transfer data. TCP-Port 502 is reserved for Modbus TCP. Power meter readings Active energy consumption (kWh) and supply (kWh) Reactive energy consumption (kWh) and supply (kWh) Active power (kw) Reactive power (kvar) Apparent power (kVA) Current (A) Frequency (Hz) Number of voltage failures CT ratio LCD-Display Reading and setting parameters is user-friendly by a 38x28 mm graphic LCD display with LED backlight. This provides excellent visibility of numbers and letters.Display language e.g. english or german can be selected by the keys. Power meter configuration Touch-sensitive control buttons are used for configuration. A sealable service button must be pressed for each configuration change.The current transformer ratio (1 or 5 A transformer, up for up to 20000/5 or 4000/1 A) can be configurable several times.Network parameters are easy to configure via the website or buttons. S0 pulse output The 3-phase power meter EMU Professional II 3/5 TCP/IP features a configurable S0 pulse output for active or reactive energy Pulse rate per kWh / kvarH: 1,10,100, 1000 or 10000 Pulse length in milliseconds: 2ms, 10ms, 30ms, 40ms, 120 ms Power meter configuration ex factory Netwok configuration: DHCP S0 pulse output: 10 Impulse/ 20 ms Manufacturer The 3-phase MID approved TCP/IP power meter meter is produced in Switzerland by EMU Electronic Ltd.More information: https://www.emuag.ch
Request B2B login to view prices & discount.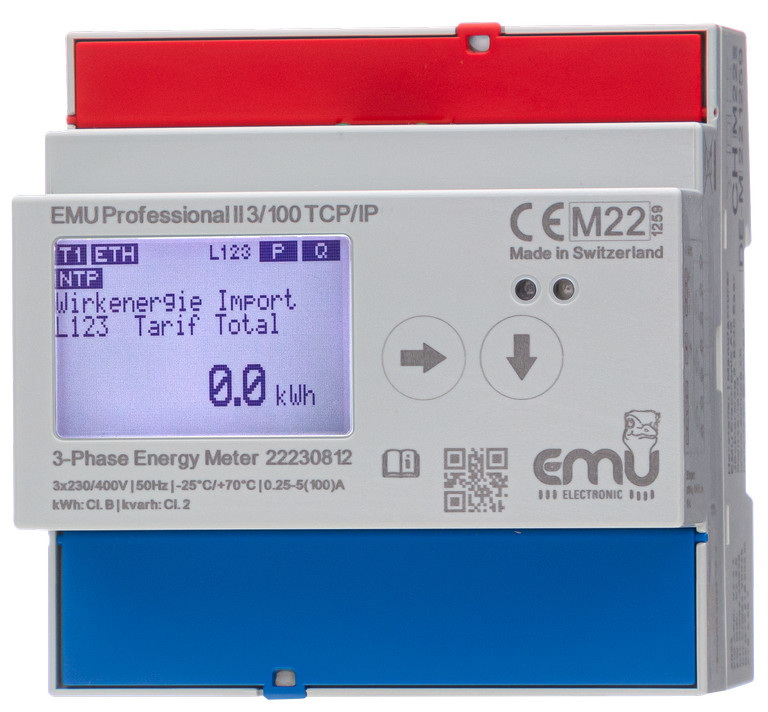 EMU Professional II 3/100 TCP/IP
The 3-phase bidirectional power meter EMU Professional II 3/100 TCP/IP for DIN rail mounting is suitable for energy management as per ISO 50001 and energy cost billing.Built-in load profile memory with a memory depth of over 3 years at a 15-minute interval Features Bidirectional three-phase power meter with LAN TCP/IP interface Remote reading via Modbus TCP and API Webserver access protection with password Logging of different measurement values and export to CSV or via API Memory depth of over 3 years at a 15-minute interval 3x230/400V Direct connection up to 100 A MID B+D, for billing purposes Accuracy class B (1%) TCP/IP interface The built-in LAN TCP/IP interface is protected against dirt and manipulation.You can analyse different measurement readings via your web browser and IP address in a LAN or WAN. Remote reading via Modbus TCP   HTTP-GET API   NTP time server Buffered clock with synchronisation DHCP or fixed IP Modbus TCPModbus TCP is similar to Modbus RTU, but TCP/IP packages are used to transfer data. TCP-Port 502 is reserved for Modbus TCP. Power meter readings Active energy consumption (kWh) and supply (kWh) Reactive energy consumption (kvarh) and supply (kvarh) Active power (kw) Reactive power (kvar) Apparent power (kVA) Current (A) Frequency (Hz) Number of voltage failures LCD-Display Reading and setting parameters is user-friendly by a 38x28 mm graphic LCD display with LED backlight. This provides excellent visibility of numbers and letters.Display language e.g. english or german can be selected by the keys. Power meter configuration Touch-sensitive control buttons are used for configuration. A sealable service button must be pressed for each configuration change.Network parameters are easy to configure via the website. S0 pulse output The 3-phase power meter EMU Professional II 3/100 TCP/IP features a configurable S0 pulse output for active or reactive energy Pulse rate per kWh / kvarH: 1,10,100, 1000 or 10000 Pulse length in milliseconds: 2ms, 10ms, 30ms, 40ms, 120 ms Power meter configuration ex factory Netwok configuration: DHCP S0 pulse output: 1'000 Impulse/ 40 ms Manufacturer The 3-phase LAN power meter meter is produced in Switzerland by EMU Electronic Ltd.More information: https://www.emuag.ch
Request B2B login to view prices & discount.
Power meters with TC/IP interface: Now available for purchase at EMU!
When it comes to technological advances, energy meters are no exception and becoming more and more modern. By now, meters can transmit the recorded energy consumption data to a server with no effort. Both wired and wireless. The magic word? Interfaces. In addition to LoRa, RS485, or M-Bus, consumption meters can also be equipped with TCP/IP interfaces. These allow measuring devices a precise and fast transmission of energy data, a well as precise third-party delimitation. In the EMU Metering online store, you will find high-quality electricity meters with TCP/IP interface and Modbus TCP communication; review our product range and experience it for yourself.
What is TCP/IP?
The abbreviation TCP/IP stand for Transmission Control Protocol/Internet Protocol and describes a package of selected communication protocols. These are used for network connection. They ensure that consistent communication is maintained. TCP and IP are the two main protocols, but other protocols exist as well.
They provide end-to-end communication, through which data are exchanged via the internet. They determine how data are to be distributed into packages, addressed, transmitted, forwarded, and then received at their destination. What's convenient about this: The method of communication requires only a small amount of central management and makes networks reliable. Further, TCP/IP affords networks the opportunity to automatically recover within this interwoven system after the failure of any device.
What are the features of the EMU Professional II power meter with TCP/IP interface?
In our online store, you will find electricity meters with different interfaces. If you are generating your own power, you are able to reliably delimit third-party quantities thanks to the TCP/IP interface built into several meters of the EMU Professional II product series. The communication module allows for the display of current data, as well as the logging of different measurements. A password can be used to protect the data from unauthorised access. In addition, the electricity meters are suitable for capturing the energy consumption as part of energy management in accordance with ISO 50001.
The remote readout of usage data occurs via a Modbus TCP interface, as well as the HTTP-GET API interface. Modbus TCP transmits data compared to Modbus RTU in TCP/IP packages. Modbus RTU interfaces can be found in our RS485 power meters. Aside from this difference, the two interfaces are quite similar. The TCP Port 502 on the electricity meter of the EMU Professional II series is reserved for the Modbus TCP interface. The NTP time server ensures that measurements are recorded via a synchronised time stamp. Finally, stored data can be exported if necessary.
Which measurements can be logged?
The energy meter has a built-in load profile memory, which stores data for more than 3 years in fifteen-minute intervals. The following measurements can be captured via data loggers:
Import of active energy | supply of active energy

Import of reactive energy | supply of reactive energy

Effective power per phase L1/L2/L3
Current per phase L1/L2/L3
Voltage per phase L1/L2/L3
Which settings, bus connectors and cable types are there?
Our energy meters are delivered with default settings ex works. The relevant configuration can be accessed via a Dynamic Host Configuration Protocol (DHCP). The connection of the Modbus TCP occurs via the cable type RJ45 Twisted Pair. These are copper cables with drilled, crossed, or stranded wire pairs. This cable type is characteristic for signal and data transmission.
The meters that have a built-in TCP/IP communications module further have a configurable S0 pulse output. Using these, measurements can be transferred from access and delivery of active and reactive energy.
For your information:
Active energy is electrical energy that is delivered to an electric transformer and transformed into other forms of energy. Reactive energy oscillates between the network and the consumer and cannot be used.
Benefit from the power meters of the EMU Professional II series with built-in TCP/IP interface and trust in their numerous approvals: the meters have MID B+D certification, and are suitable both for energy management according to ISO 50001, and for accounting purposes. Efficient and reliable energy management requires reliable energy meters, and EMU delivers them!
Please contact us with any questions about the installation and configuration of the meters. The team at EMU Metering is happy to help!